Update: now you have the possibility to specify your own admin colour scheme leaving the layout exactly like it is in WordPress 2.5 by default.
Matt Mullenweg recently asked if anybody has taken advantage of the new admin colour scheme switcher in WordPress 2.5, and the short answer is yes and no. There is the Fluency theme by Dean J. Robinson, which is more like a complete redesign of the administration panel.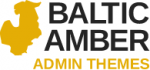 Therefore I made the Baltic Amber Admin Themes & Schemes, which allow you:
to create your own colour scheme by specifying only two base colours,
to have the theme colours change randomly every time you reload the page, or at any time interval you choose,
to use one of the administration themes which slightly alter/improve the positioning of different administration panel elements, like the main navigation, dashboard information and the plugin listing. There are eight basic colour options available or you can specify your own base colours by choosing 'My Colour Theme', or use the random colour generator.
to place Tag and Category selection in two columns right after the text editor in the 'Write Post' panel. This option can be enabled for every admin theme, including the default ones.
Baltic Amber admin themes also improve the scanability of the Plugin Management screen by replacing the darker background colour for the activated plugins with a green ribbon on the side.
Download & Install
Download from WordPress Extend. Compatible with WordPress 2.5 only.
Download the plugin and unzip its content.
Upload the baltic-amber directory to /wp-content/plugins/ directory. The final directory tree should look like /wp-content/plugins/baltic-amber/baltic-amber.php
Activate the plugin at the Plugin Management section under 'Plugins' menu.
Go to your User Profile (under 'Users' > 'Your Profile' or by clicking on your name at the top right corner of the administration panel).
Choose either Random Color scheme or My Color scheme, or one of the admin themes that you would like to use in the Admin Color Scheme section and click 'Update Profile'.
If you decide to use either the Random Colour or the My Colour theme, configuration options are available under 'User' > 'Baltic Amber Colour Settings'.
'Realign Category and Tag selection as columns in the New Post panel' option can be enabled under 'User' > 'Baltic Amber Colour Settings'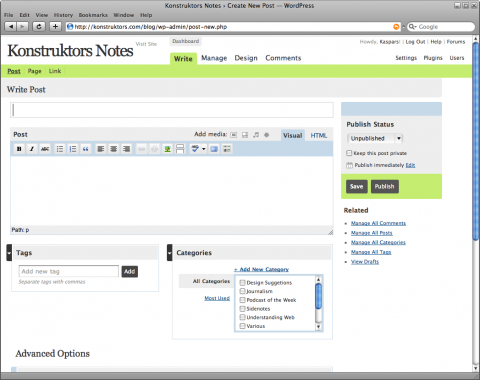 Baltic Amber Theme & Scheme Screenshots
Browser Compatibility
Random color and My color schemes work as fine as the default WordPress color schemes.
Modified Admin themes work perfectly in Firefox 2 (and above), IE 6, IE 7, Opera 9 and also Safari.
Questions or Suggestions?
Please leave them in the comments. If something is not working like expected or you find a bug, please remember to mention the browsers (name and version) that you are using.