Tabbed Widgets plugin for WordPress has been updated to include most of the features that users of the plugin have requested since it was first released. Here is a quick list of all the improvements that are available in version 0.71:
An "invisible" sidebar or widgetized area is added to the list of the available sidebars automatically. Now you can easily prepare and configure the widgets that you want to use inside a tabbed interface. Previously you would have to manually edit template.php of your theme, but now the plugin does it for you and for every theme.
The drop-down list of widgets that are available for placement inside a tabbed interface now includes titles of the widgets which makes it possible to distinguish between multiple text widgets, for example. Previously you could end up having multiple text and rss widgets without any way of determining which is which.
Make any of the tabs open by default. Previously you could choose only a random or a hardcoded "start" tab.
The horizontal tabs are now as smart as the accordion ones — the automatic rotation stops when a reader hovers it.
Improved performance and significantly reduced database calls.
Notice: Version 0.7 has a bug which somehow makes some posts under 'Edit' section of WordPress dashboard to disappear. This is now fixed in 0.71.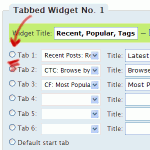 Update Now
Get the latest version of Tabbed Widgets using the automatic plugin update feature within your WordPress dashboard, or from the dedicated page on WordPress Extend.