Times Racer is a WordPress theme which you can currently see on this blog. I have always thought that sans-serif typefaces (like Helvetica, Arial or Verdana) are the best for readability on the screen. However the increasing use of font anti-aliasing among different operating systems can be a good reason to reevaluate this assumption.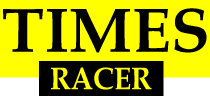 Breaking the rules that were once considered the only reasonable way of doing something is very hard, especially for designers. But it is also very mind-opening at the same time — to realize the unbounded beauty of the design choices and opportunities.
Summary of the planned features of the Times Racer:
Different sidebar widget layout for the front page, individual articles, pages and the archives section in order to increase the usability by showing only the relevant information.
Fluid layout (using Konstruktors CSS snippets) with percentages as a measure of width. Resizable text set in relative em values. Only one theme color which can be easily changed to accommodate your personal taste and needs.
Ability to specify page titles that are different from the corresponding menu (page list) item (good for SEO; oh, I hate this word).
Default image alignment without a need to add any CSS classnames. Additional set of easy to remember styles for:

positioning the images (left, right, full width);
aligning blocks and columns of the text inside an article, for example quotes and their source, important notices;
creating "flat" lists like this one which have more content per each item and can be nicely aligned with to the rest of the paragraphs.

PNG image transparency enabled by default for all images (using the solution provided by Bob Osola) for the users of Internet Explorer.
All of the features mentioned above will work out of the box and won't require any plugins to be installed.
Lets make it even better
What are the features that you would like to see implemented into this theme? If you have any suggestions, please add them into comments.