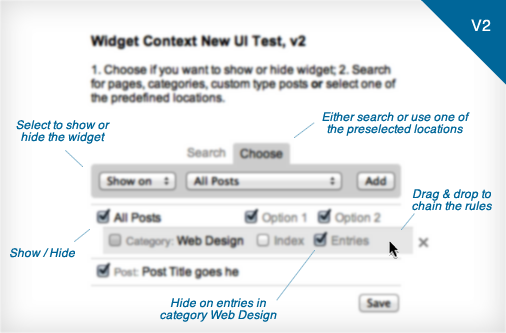 Here is the second iteration of the UX update for the Widget Context plugin. Please check out the live demo and let me know what you think!
The Concept
The number of locations where you might want to show or hide a widget can vary significantly — having "Related Posts" widget on all blog entries except on posts that are tagged "twitter" (many); or showing the "About Me" widget only on the front page of a blog (few). However, the combinations are endless.
Therefore, I realized that the most important feature should be the ability to find those groups of locations very fast. So there will be only two ways to sort through the content: (1) search, or (2) choose one of the core locations such as homepage, blog index, all pages/(custom)posts or their indices (archives).
Once you have found and selected the sections, it is only a matter of ordering (or chaining) them according to their "power" — low power locations sink to the bottom and are overwritten by the ones floating above them. This is done via drag-and-drop.
The question is — can you think of a combination of locations that can't be covered using this approach?